| | |
| --- | --- |
| | Disclaimer: While it is the intention of the foremost members of this website to keep pages as mythologically accurate as possible, this site should not be taken fully as mythical, legendary or folkloric canon (let alone as a resource for any paper, report or journal). Cite pages at your own peril. |
Cockatrice

For some reason, the cockatrice is often mistaken for the basilisk...
Information
Alternate Names/Spellings
Calcatrix
Origins
European Mythology (Greek, Medieval, Roman folklore...)
Alignment
Chaotic Neutral, Neutral Evil, Chaotic Evil
Element
Air/Wind/Sky, Earth, Life/Death/Blood, Poison/Acid/Plague
Species
Chimera
Appearance
Dragon-Chicken Hybrid
Origins
The Cockatrice is a creature with origins in the mythology, legend and folklore of Medieval Europe. In particular, accounts of its existence first arise
Appearance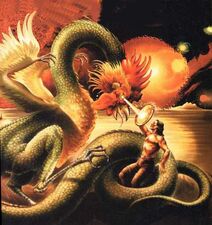 Behavior
Cockatrices, similar to basilisks, are extremely powerful, extremely dangerous beasts. Also similarly, they are known killers, and are nearly impossible to domesticate. However, like their chicken cousins, they tend to gather in small flocks, of one alpha male, a few younger males, several females, and the chicks. Similar to both mundane chickens and basilisks, the females are really good mothers, preferring to protect the chicks until they are old enough to take care of themselves. Clutches of eggs typically range from 4-12 eggs.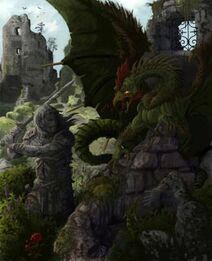 Abilities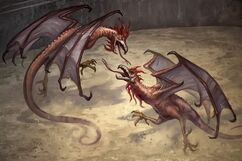 Like Medusa, their gaze can turn people into stone, being dragons, they are good at flying and they can breathe poison.
Weaknesses
The weasel is immune to its gaze and breath and so can kill it. Looking into a mirror rebounds its power and results in the cockatrice turning to stone.