| | |
| --- | --- |
| | Disclaimer: While it is the intention of the foremost members of this website to keep pages as mythologically accurate as possible, this site should not be taken fully as mythical, legendary or folkloric canon (let alone as a resource for any paper, report or journal). Cite pages at your own peril. |
Cynocephalos


Information
Alternate Names/Spellings
(pl) Cynocephali, (pl) Cynocephaloi, (pl) Cynomolgi, (pl) Cynomolgoi, Cynomolgos, Cynomolgus, Cynoprosopi, (pl) Cynoprosopoi, Cynoprosopos, Cynoprosopus, Dog Face, Dog-Face, Dog Head, Dog-Head, Doghead, Dog Milker, Dog-Milker, Half-Dog, (pl) Hemicynes, Hemicyon, (pl) Kynokephaloi, Kynokephalos, (pl) Kynomolgoi, Kynomolgos
Origins
Greek and Roman Mythology, Legend and Folklore
Alignment
Element
Species
Humanoid
Appearance
Dog-headed Humanoid
Origins
The Cynocephalus is one of a race with origins in Greek and Roman mythology, legend and folklore. Specifically, accounts of their existence first arose in Catalogues of Women (a work by Hesiod), Histories (a work by Herodotus), Indica (a work by Ctesias), On Animals (a work by Aelian) and Natural History, a work written by Pliny the Elder.
Appearance
For the most part, Cynocephaloi resemble ordinary humans, and can have any shade of skin that is possible for ordinary human beings. However, they are set apart by the feature that gives their kind its name; in place of a human head, they have the head of a dog.
Their head can be that of any dog species, and of course, similar Cynocephalos breed traits trace through families. So if, for example, one parent has the head of a Rottweiler and the other a German Shepherd, the offspring will have the head of a Rottweiler, a German Shepherd, or an equal mix of traits between the two breeds.
Likewise, if human(oid)s breed with Cynocephaloi, they have an equal chance of having an ordinary human head, or the head of any dog breed within the Cynocephalos' ancestral family line.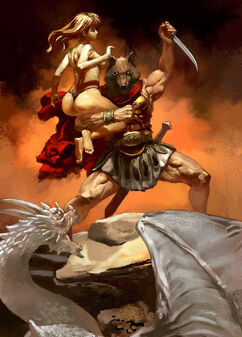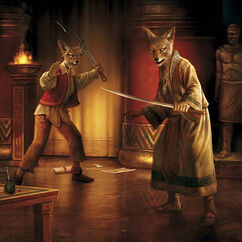 Behavior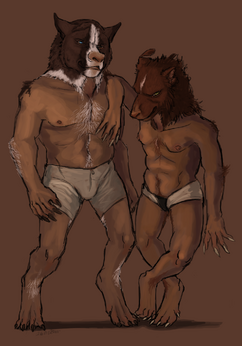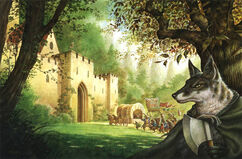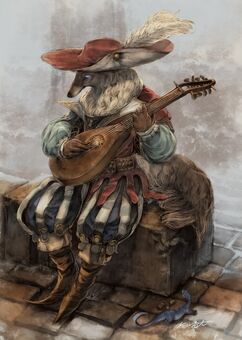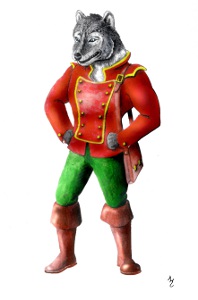 Abilities
Weaknesses
Community content is available under
CC-BY-SA
unless otherwise noted.