| | |
| --- | --- |
| | Disclaimer: While it is the intention of the foremost members of this website to keep pages as mythologically accurate as possible, this site should not be taken fully as mythical, legendary or folkloric canon (let alone as a resource for any paper, report or journal). Cite pages at your own peril. |
Demigod

Heracles always COULD take care of himself...
Information
Alternate Names/Spellings
Demi-God, Half-God, Semi-Deus
Origins
Worldwide
Alignment
Any
Element
Life/Death/Blood, Lightning/Thunder/Electricity, Aether/Quintessence/Divine Essence
Species
Hybrid Being, Divine Agent
Appearance
Humanoid with divine traits...
Origins
The Demigod is one of a race of creatures with origins in the mythology, legend and folklore of nations all around the world.
Some claim that Ovid coined the term "demigod" (or, rather, its Latin form "semideus") to refer to Roman deities with "half" the power of major gods--in essence, it would denote spirits such as Fauns and Nymphs.
Though, in more modern times, the term is used more often in reference to the offspring of deities and mortals.
-Names of Specific Demigods:
Abhimanyu-
Achilles-
Aeacus-
Aeneas-
King Aeëtes
Agenor
Aethusa
Alpheus
Amphion
Arcas
Arjuna
Ashwathama
Asklepios
Athis
Babruvāhana
Bali
Bellerophon
Belus
Bhima
Bhishma
Calais
Cu Chulainn
Clymene
Cychreus
Cycnus
Cymopoleia
Dardanus
Dhristadyumna
Dionysus
Drona
Eirene
Endymion
Epaphus
Ghatotkacha
Gilgamesh
Hanuman
Helen of Troy
Heracles (Hercules)
Hippolyta
Iasion
Iravan
Karna
Kritavarma
Lakshmana
Macaria
Māui
Memnon
Minos
Nakula
Otrera daughter of the east wind Eurus.
Orpheus
Peirithous
Perseus
Polydeuces (Pollux) of the Dioscuri
Pradyumna
Rhadamanthus
Rhesus of Thrace
Romulus and Remus
Sahadeva
Sarpedon
Satyaki
Semele
Shantanu
Shikhandi
Sugreeva
Theseus
Tityas
Turnus
Vali
Yudhisthira
Zetes
Zethus
Appearance
Behavior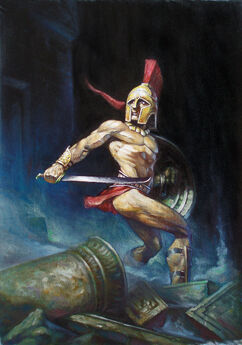 Abilities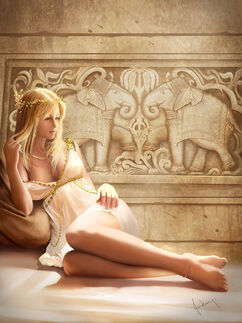 Community content is available under
CC-BY-SA
unless otherwise noted.