| | |
| --- | --- |
| | Disclaimer: While it is the intention of the foremost members of this website to keep pages as mythologically accurate as possible, this site should not be taken fully as mythical, legendary or folkloric canon (let alone as a resource for any paper, report or journal). Cite pages at your own peril. |
Merfolk
[[

|250px]]
'
Information
Alternate Names/Spellings
Merboy, Mergirl, Mermaid, Merman, (pl) Mermen, (pl) Merpeople, (pl) Merperson
Origins
Alignment
Chaotic Neutral, Neutral Good, Neutral Evil
Element
Water
Species
Chimera
Appearance
Fish-tailed Humanoid
Origins
Merfolk are a race of creatures with origins in mythology, legend and folklore from around the world.
Appearance
Among the most well-known easily recognizable of the mythical races, Merfolk are human from the waist up, and from the waist down, there extends a wish tail in the place of human legs.
Aside from this, Merfolk may have any skin color that is common among mundane humans, from the lightest shade to the darkest hue. Their hair and eye color may be any color that occurs within fish species; that is, hair and eye color run the entire visible color spectrum.
Some Merfolk possess more ichthyic (fish-like) characteristics than others. They may have webbed fingers, scaly patches on their skin (for example, in place of nipples on a mermaid's breasts); in cases, they may have fins and/or gills. Though, the 'human half' of a Mermaid or Merman's body is most often indistinguishable from true human.
In fact, it is common for sailors, pirates and other passersby on the waters to mistake a Mermaid or Mermaid half-risen from the waters for a human swimmer or someone drowning.
Behavior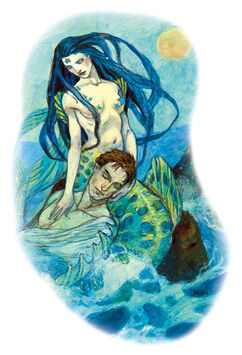 Abilities
Weaknesses
Community content is available under
CC-BY-SA
unless otherwise noted.