Line 15:
Line 15:
 

The [https://en.wikipedia.org/wiki/Ouroboros Ouroboros] is a creature with origins in mythology, legend and folklore from all around the world. In particular, it is taken by various philosophies, religions and cults (rightfully) as a symbol of eternity, infinity and immortality. In fact, it is believed by many that the universal infinity symbol ( ∞ ) first originated from the observation of a coiled Ouroboros at a side angle.

 

The [https://en.wikipedia.org/wiki/Ouroboros Ouroboros] is a creature with origins in mythology, legend and folklore from all around the world. In particular, it is taken by various philosophies, religions and cults (rightfully) as a symbol of eternity, infinity and immortality. In fact, it is believed by many that the universal infinity symbol ( ∞ ) first originated from the observation of a coiled Ouroboros at a side angle.

 

==Appearance==

 

==Appearance==

 
+

The Ouroboros is a snake. It may appear to be a mundane species, or it may have a color or pattern distinct from any other. It may be small as the smallest mundane species of snake, or its size may rival that of the greatest dragon. Though, unmistakably, its form will be coiled in either a circle, or the trademark infinity symbol shape.

 

[[File:Ouroboros-preview-1-.png|thumb|left|212px|"The ouroboros exemplifies life unending..."]]

 

[[File:Ouroboros-preview-1-.png|thumb|left|212px|"The ouroboros exemplifies life unending..."]]

 

==Behavior==

 

==Behavior==
---
Latest revision as of 05:01, 14 September 2019
| | |
| --- | --- |
| | Disclaimer: While it is the intention of the foremost members of this website to keep pages as mythologically accurate as possible, this site should not be taken fully as mythical, legendary or folkloric canon (let alone as a resource for any paper, report or journal). Cite pages at your own peril. |
Ouroboros

The circle of life, embodied...
Information
Alternate Names/Spellings
Ouroborus, Uroboros
Origins
Alignment
Neutral
Element
Time
Species
Magical Beast
Appearance
Self-devouring Serpent
Origins
The Ouroboros is a creature with origins in mythology, legend and folklore from all around the world. In particular, it is taken by various philosophies, religions and cults (rightfully) as a symbol of eternity, infinity and immortality. In fact, it is believed by many that the universal infinity symbol ( ∞ ) first originated from the observation of a coiled Ouroboros at a side angle.
Appearance
The Ouroboros is a snake. It may appear to be a mundane species, or it may have a color or pattern distinct from any other. It may be small as the smallest mundane species of snake, or its size may rival that of the greatest dragon. Though, unmistakably, its form will be coiled in either a circle, or the trademark infinity symbol shape.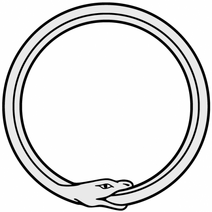 Behavior
Abilities
Weaknesses
Community content is available under
CC-BY-SA
unless otherwise noted.