| | |
| --- | --- |
| | Disclaimer: While it is the intention of the foremost members of this website to keep pages as mythologically accurate as possible, this site should not be taken fully as mythical, legendary or folkloric canon (let alone as a resource for any paper, report or journal). Cite pages at your own peril. |
Rakshasa

'
Information
Alternate Names/Spellings
Kravyad, (shapeshifted female) Manushya-Rakshasi, Nri-chaksha, (female) Rakshasi
Origins
Hindu Mythology
Alignment
Element
Species
Appearance
Origins
The Rakshasa is a creature with origins in Hindu mythology, legend and folklore. In particular, accounts of their existence first arose in the Hindu tales called The Ramayana and the The Mahabharata.
Names of Specific Rakshasa:
-Bhandasura:
-Bhasmasura:
-Daruka:
-Dhoomralochana:
-Durgam:
-Ghatotkacha:
-Hidimba:
-Hidimbi:
-Hiranyakashyapu: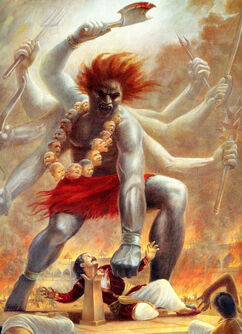 -Hiranyaksh:
-Indrajit:
-Jalandhara:
-Khara:
-Kumbhakarna:
-Mahishasura:
-Mandodari:
-Mara:
-Maricha:
-Narakasura:
-Nishumbha:
-Prahasta:
-Rahu:
-Raktabija:
-Ravana: King of the Rakshasas
-Shukra: The guru of Rakshasas and Asuras
-Shumbha:
-Soorapadam:
-Subahu:
-Tadaka:
-Tataka:
-Vibhishana:
-Viradh:
-Vatapi:
Appearance
While their capabilities often make them rather difficult to spot at first, the Rakshasa's true form is one said by many to be rather remarkable (in the most frightening way).
Behavior
Rakshasa are often shown as evil, chaotic and demonic creatures, doing what they want, regardless of the consequences. They are vampiric and will steal life force from people and will do evil acts. Some were said to possibly be humans who were particularly wicked in life.
Abilities
The abilities of Rakshasa are varied by legend. The commonly attributed abilities are sorcery, illusions, shapeshifting, and the power to steal life force. The sorcery is often powerful as some are capable of great feats with it. Stealing life force is often recorded as taking it from humans for sustenance.
Weaknesses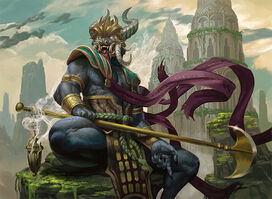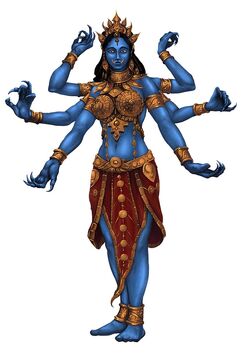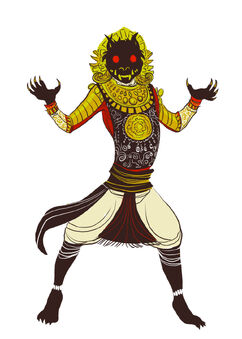 Community content is available under
CC-BY-SA
unless otherwise noted.