| | |
| --- | --- |
| | Disclaimer: While it is the intention of the foremost members of this website to keep pages as mythologically accurate as possible, this site should not be taken fully as mythical, legendary or folkloric canon (let alone as a resource for any paper, report or journal). Cite pages at your own peril. |
Rakshasa

'
Information
Alternate Names/Spellings
Origins
Hindu Mythology
Alignment
Element
Species
Appearance
Also Called
(shapeshifted female) Manushya-Rakshasi
Origins
The Rakshasa is a creature with origins in Hindu mythology, legend and folklore, as well as Buddhist and Jainist tradition. In particular, accounts of their existence first arose in the Hindu tales called The Ramayana and the The Mahabharata.
Rakshasa were born from the breath of the creator deity Brahma himself, while he slept. Distraught with their aggressiveness, Brahma called to Vishnu, who banished those first Rakshasa to the mortal world.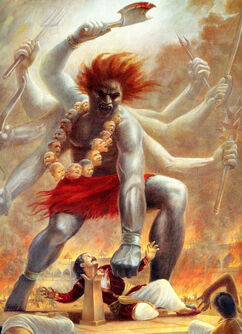 Their species is named for Brahma's cry to Vishnu for help ("Rakshama!", which is Sanskrit for "Protect me!").
Names of Specific Rakshasa:
-Daruka:
-Dhoomralochana:
-Durgam:
-Ghatotkacha:
-Hidimba:
-Hidimbi:
-Hiranyakashyapu:
-Hiranyaksh:
-Indrajit:
-Jalandhara:
-Khara:
-Kumbhakarna:
-Mahishasura:
-Mandodari:
-Mara:
-Maricha:
-Narakasura:
-Nishumbha: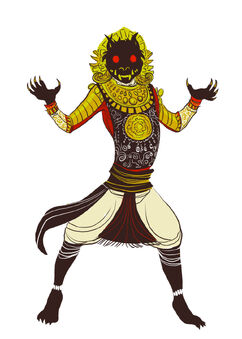 -Prahasta:
-Rahu:
-Raktabija:
-Ravana: King of the Rakshasas
-Shukra: The guru of Rakshasas, and Asuras
-Shumbha:
-Soorapadam:
-Subahu:
-Tadaka:
-Tataka: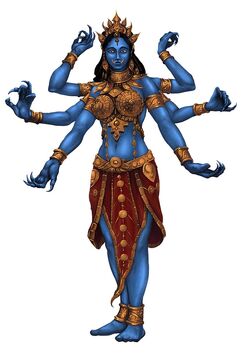 -Vibhishana: Ravana's brother, aligned good
-Viradh:
-Vatapi:
Appearance
Rakshasa are capable of assuming a number of different shapes, and so few have seen the true form with which they are associated.
Though, commonly, the form that a Rakshasa takes for its "normal" mien is that of a larger humanoid. This may mean the larger limits of human size, to the size of an Orc or an Ogre, to the size of a Giant, to the size of a Titan, or even larger. The skin of a Rakshasa may vary all across the color spectrum.
A common face for a Rakshasa's "normal" mien is animalistic, goblinoid or perhaps demonic in appearance, with wild red eyes, a pug nose, lolling tongue, serrated fangs and perhaps tusks.
Many Rakshasa, especially the more powerful ones, are known to have multiple heads and/or multiple arms, and claws. And some Rakshasa have been seen with flaming red hair and/or eyes.
Behavior
So ravenous was the hunger of the first Rakshasa that, shortly after their creation, the deity whose breath created them (Brahma) called for help managing their appetite, and had them cast by Vishnu down to the mortal realm.
That having been said, the Rakshasa are not mindless creatures, by far. Nor can it be said that they are an exclusively evil, harmful or even mischievous race.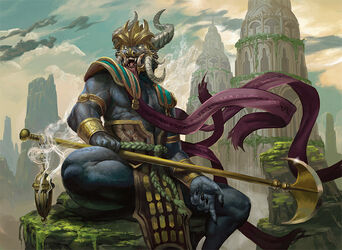 In many parts of various worlds, the Rakshasa have an earned reputation of being ravenously bloodthirsty. Their King, Ravana, has led the Rakshasa on many a campaign against heroes like Bhima and Sugriva (King of the Vanara), as well as against divinities like Rama and his brother Lakshmana. And when battles get to be particularly bloody and violent, with an especially high loss of life and limb, the Rakshasa are known to be drawn out, reveling in the carnage.
Stories also exist of some mortals becoming Rakshasa, by certain depraved acts (such as eating human brains); and a number of dark mages are noted to follow in the wake of a Rakshasa feeding, and eat the remains of their kills (an act called Yatu-Dhana).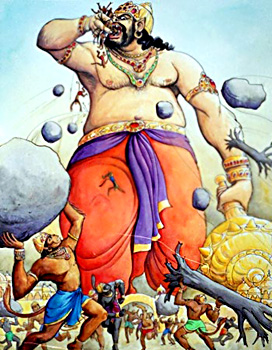 Yet, there are also a large number of Rakshasa (like Vibishana) who allied with the gods, and many (like Ghatotkacha) who fought on the side of heroes, even against their own kind.
Even those Rakshasa who once allied with antagonistic causes have been seen to shift allegiance, in time. Shurpanakha is noted to have aligned with her brother King Ravana, and attempting to kidnap Rama's love Sita (losing her left ear and part of her nose in the process); though, later, it is said that she and Sita would come to reconcile with one another, and even become friends.
One should note, on this subject, that most accounts of the Rakshasa come from humans who encounter them in a negative combat, whether as combatants or as victims in their villages.
Precious little is known about Rakshasa civilian life, other than the tendency in some to dwell in the trees in certain forests, and the population numbers being likened to those of humans.
Abilities
Magic- the ability to channel supernatural energy to induce and manipulate events and phenomena.
Superhuman Digestion- the ability to process ingested materials with power and efficiency beyond human norms.
Superhuman Senses- the ability to perceive sensory stimuli with precision and range beyond human norms.

Superhuman Smell- the ability to perceive olfactory stimuli with precision and range beyond human norms.
Weaknesses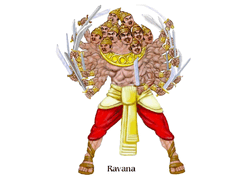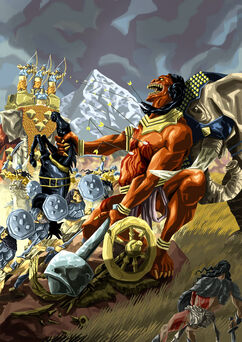 Community content is available under
CC-BY-SA
unless otherwise noted.